Acquire the 2-Day Trauma & Memory Workshop -Clinical Strategies to Resolve Traumatic Memories and Help Clients Reclaim Their Lives – Peter Levine Course at at GBesy. We actively partake in Groupbuys, striving to disseminate knowledge to a wider audience. Notably, our courses uphold the same quality standards as those found on the sale page. Should you prefer, you have the option to make a direct purchase from the sale page at the full price (the SALEPAGE link is seamlessly integrated into the post).

2-Day Trauma & Memory Workshop -Clinical Strategies to Resolve Traumatic Memories and Help Clients Reclaim Their Lives by Peter Levine,
Salepage link: At HERE. Archive:
Faculty:

Peter Levine

Duration:

10 Hours 19 Minutes

Format:

Audio and Video

Copyright:

Oct 28, 2019
Description
Addressing traumatic memories directly is critical to successful therapy.
But there's tremendous misunderstanding in how to work with traumatic memories in treatment. It can leave you confused, insecure, and seeking a deeper understanding of memory systems to help guide your important work.
Peter Levine, PhD is a master therapist, pioneer in the field of trauma and memory, and author of several seminal books on trauma. His body-oriented techniques for healing traumatic memories are built upon 50 years of research and clinical work and have influenced generations of therapists.
This 2-day recording is your chance to learn from Dr. Levine himself!
Watch Dr. Levine as he explains the significance of memory systems in the resolution of trauma, and shares the therapeutic approaches that he's found most effective during his decades of groundbreaking clinical work. His proven strategies will help you to quickly reduce symptomology in your clients and the traumatic memories that haunt them.
Under Dr. Levine's expert guidance, you'll discover how you can take your treatment of complex, deeply entrenched trauma to the next level and overcome the painful roadblocks that can frustrate you and your clients.
You don't want to miss this rare opportunity to study directly under Dr. Levine and learn from a legend in our field!
Handouts
| | | | |
| --- | --- | --- | --- |
| | Manual – Trauma & Memory Workshop (2.46 MB) | 75 Pages | Available after Purchase |
Outline
Trauma and the Body
Developmental trauma
Evolution and Polyvagal foundation
How the body stores trauma
Clinical research
Deeper Understanding of Memory and Clinical Implications
Explicit – More Conscious Memory
Implicit – Less Conscious Memory

Emotional
Procedural/Body Memory

Clinical application for memory systems
Traumatic Memories
Long-term memory vs short-term memory
How the brain and body store memory
Memory engrams with somatic markers
Fight, flight, freeze response
How Clients Get "Stuck"
Tonic immobility – The fallback to freeze
Freeze couples with Fear
Dissociation
Bracing and terror
Euphoric dissociation
Collapse
Somatic and Emotional Reactions to Trauma
Symptoms and complexities of each in therapy
Emotional – anxiety, depression
Somatic – chronic pain, fibromyalgia
Autonomic – migraines, irritable bowel
Resolving Traumatic Reactions
The Basic Stages of Trauma Treatment
Containment of strong sensation and emotion
Pendulation – The dual opposites of sensation
Titration – going gradually
Completion
Renegotiation of active for passive responses
Allow things to settle: Self-Paced termination
Therapeutic Approaches to Treat Traumatic Memories
The importance of "Bottom-Up" processing

The Paul MacLean's Triune Brain
In an Unspoken Voice

Somatic Experiencing©

Renegotiation vs. Reliving
Restoration of self-regulation
Somatic experience of trauma
Developing internal awareness

The mind-body connection in trauma work
Help reinforce trust and acceptance in clients
Incorporating client's spirituality in trauma work
Faculty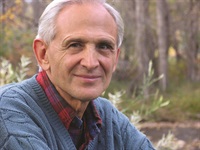 ---
Dr. Peter Levine holds doctorates in both medical biophysics and psychology. He is the developer of Somatic Experiencing® (SE), a naturalistic body-awareness approach to healing trauma, which he teaches all over the globe. Dr. Levine is also the founder of the Foundation for Human Enrichment and was a stress consultant for NASA during the development of the space shuttle.
An accomplished author, Dr. Levine penned Healing Trauma, Sexual Healing and the bestselling book, Waking the Tiger. He also co-authored with Maggie Kline Trauma Through a Child's Eyes and Trauma-Proofing Your Kids. His latest book, In an Unspoken Voice: How the Body Releases Trauma and Restores Goodness, is a testament to his lifelong investigation into the connection between evolutionary biology, neuroscience, animal behavior, and more than 40 years of clinical experience in the healing of trauma.
Dr. Levine was honored in 2010 with a Lifetime Achievement Award from the United States Association for Body Psychotherapy (USABP) and is a Senior Fellow at Meadows Behavioral Healthcare.
Speaker Disclosure:
Financial: Peter Levine is the Developer of Somatic Experiencing®. He is the founder and Senior Advisor to the Foundation for Human Enrichment; and Senior Advisor to The Meadows Addiction Treatment Center. Dr. Levine receives a speaking honorarium from PESI, Inc.
Non-financial: Peter Levine is a member of the American Psychological Association; Humanistic Psychological Association; and International Society for Traumatic Stress Studies.
---
Buy the 2-Day Trauma & Memory Workshop -Clinical Strategies to Resolve Traumatic Memories and Help Clients Reclaim Their Lives – Peter Levine course at the best price at GBesy. After your purchase, you will get access to the downloads page. You can download all the files associated in your order at here and we will also send a download notification email via your mail.
Unlock your full potential with 2-Day Trauma & Memory Workshop -Clinical Strategies to Resolve Traumatic Memories and Help Clients Reclaim Their Lives – Peter Levine courses. our courses are designed to help you excel.
Why wait? Take the first step towards greatness by purchasing 2-Day Trauma & Memory Workshop -Clinical Strategies to Resolve Traumatic Memories and Help Clients Reclaim Their Lives – Peter Levine courses today. We offer a seamless and secure purchasing experience, ensuring your peace of mind. With our trusted payment gateways, Stripe and PayPal, you can confidently complete your transaction knowing that your financial information is protected.
Stripe, known for its robust security measures, provides a safe and reliable payment process. With its encrypted technology, your sensitive data remains confidential throughout the transaction. Rest assured that your purchase is protected.
PayPal, a globally recognized payment platform, offers an additional layer of security. With its buyer protection program, you can feel confident in your purchase. PayPal ensures that your financial details are safeguarded, allowing you to focus on your learning journey.
Is it secure? to Use of?
How can this course be delivered?
What Shipping Methods Are Available?
How Do I Track Order?