Acquire the Nutrition for Mental Health Certification Course – Vicki Steine Course at at GBesy. We actively partake in Groupbuys, striving to disseminate knowledge to a wider audience. Notably, our courses uphold the same quality standards as those found on the sale page. Should you prefer, you have the option to make a direct purchase from the sale page at the full price (the SALEPAGE link is seamlessly integrated into the post).

Nutrition for Mental Health Certification Course by Vicki Steine,
Salepage link: At HERE. Archive:
Faculty:

Vicki Steine

Duration:

19 Hours 31 Minutes

Format:

Audio and Video

Copyright:

Dec 14, 2020
Description
Here's what you'll learn in this certificate training…
Improve mood and behavior in clients using micro-and macronutrients
Ideas for practical, affordable and individualized diets along with optimal cooking methods and recipes
Safely and ethically apply integrated and nutritional medicine within your professional discipline's scope of practice
Improve assessment by learning to differentiate between a clinical presentation of mental illnesses vs. nutritional and/or hormonal imbalances
Customize treatment plans through six unique nutritional methods for clients with mood lability
Nourish both the brain and the gut, the "second brain," through key nutrients
Learn to identify gluten and casein sensitivity with the presentation of depression, psychosis and ASD in clients
Implement evidence-based protocols for nutritional and herbal approaches for six DSM-5® categories
Evaluate how client eating patterns may influence their mental health by using a food-mood assessment tool
Increase compliance by using the DSM-5® Cultural Formulation tool to inform your treatment planning process
Prevent side effects of polymedicine use through evaluation of drug-nutrient-herbal interactions
Decrease dissociative symptoms in clients through stage-specific anaerobic and aerobic exercise and self-care methods
Improve focus for clients with anxiety disorders with breathing techniques to reduce hyperventilation
Adapt complementary and alternative methods for children and teens with behavioral and mental health disorders such as ADHD and ODD
Learn when psychotropic medications, herbal medicines, and nutrients can be harmful to clients
Improve anxiety and depression symptoms with essential fatty acids
Discover how circadian rhythm contributes to depression, PTSD and bipolar disorder
Evaluate the impact of blood sugar and genetic variations on mental health disorders and effective treatment
Best of all, upon completion of this live training, you'll be eligible to become a Certified Mental Health Integrative Medicine Professional (CMHIMP) through Evergreen Certifications. Certification lets colleagues, employers, and clients know that you've invested the extra time and effort necessary to understand the impact nutrition and integrative medicine can have on your client's mental health. Professional standards apply. Visit www.evergreencertifications.com/cmhimp for details. 
Handouts
| | | | |
| --- | --- | --- | --- |
| | Manual – 3-Day Nutrition for Mental Health (33.6 MB) | 384 Pages | Available after Purchase |
Outline
THE COMPLEX RELATIONSHIP BETWEEN MENTAL AND PHYSICAL HEALTH
How Foods Affects Moods
Carbohydrates – A new way to think about cravings
Effects protein may have on depression and anxiety
Fats for mental health (depression, ADHD, bipolar)
The connection between food, depression, diabetes and obesity
Physiological causes of fatigue, depression and anxiety
Vitamins: B-Vitamins, 5-MTHF, Vitamin D
Minerals: Magnesium, calcium
Nutrition, Diet and Culinary Medicine
Food as "brain-mind-medicine"
Fats: Essential fatty acids, toxic fats, fish oil
Protein: the building blocks of happiness
Nutrients to improve mental health and cognitive function
Vitamins, minerals, glandulars, and special nutrients for the non-nutritionist
Regulate hormonal imbalance
Balance blood sugar to balance mood
Cultural and genetic variations
Enhance digestion for mental health
Thyroid function and mental health
The Truth About Popular Supplements and Herbal Medicine
Seven major herbs for PTSD, anxiety, depression, sleep, and cognitive health
Endocannabinoid deficit theory
Cannabis and psychedelic medicine
THC versus CBD
Evidence for medical cannabis for mental health
PTSD and chronic pain
Adaptogens: Ginseng, licorice, ashwaganda
Melatonin
Smell, mood, and cognition
Evidence for essential oils to alter mood and cognition
Interactions with pharmaceuticals
Physiological Factors of Depression, Anxiety, Bipolar and ADHD
Transcending mind-body separation: Understanding the complex relationships
The factors that cause "chemical imbalance"
Beyond pharmaceutical management
Balancing circadian rhythm
Apply breathing exercises for mental health
Enhance sleep and address insomnia
ASSESSMENTS AND EVIDENCE-BASED RESEARCH
Assessments Using Integrative Approaches
Conduct a basic nutritional food/mood assessment
Conduct an adrenal stress and biological rhythm assessment
Culture and ethnicity assessment and treatment
The Cultural Formulation Interview and CAM methods
Basic lab tests for optimal mental health
Simple Screening Tools to Identify Nutritional Deficiencies Contributing to:
Anxiety and PTSD
Depression
ADHD
Fatigue
Anger
Bipolar disorder
Lack of mental clarity
Other mental health concerns
Recognizing When "Mental Illness" is Something Else
Hormonal imbalance
Anxiety vs. hypoglycemia
Inflammation
Digestion
Depressed, fatigued or malnourished?
Side effects of medications
Symptoms of Nutritional Deficiencies and Co-Morbid Conditions
Strategies to reduce inflammation: The major factor in depression, anxiety, bipolar, and ADHD
Chronic illness, fibromyalgia
Anxiety and digestion
The Second brain: Microbiome, probiotics and GABA, and anxiety
Sleep, adrenal health, and rhythms
Anger, alcohol abuse and liver health
Genetics, depression and brain
PTSD and auto immune, addictions and cognition
ADHD, ASD, and food sensitivities
Integrative approach recovery from addictions
CLINICAL APPLICATIONS – NON-PHARMACEUTICAL TREATMENT STRATEGIES
Holistic Treatment Interventions
Address clients concerns and provide alternatives to psychotropics
Herbal medicine for mental health
Strategies for clients who want to stop their medications
Ayurvedic medicine and mental health
Exercise: Elevate serotonin and regulate stress hormones
Sound and music for insomnia, anxiety and anger
Toning, binaural music
Comprehensive Non-Pharmaceutical Treatment Plans and Protocols for:
Depression & Seasonal Affect Disorder
Anxiety, PTSD, and complex trauma
Bipolar
ADHD
Body dysmorphia
OCD
Bulimia
Insomnia
Addictions
Obesity
Psychosomatic symptoms
Pre-menstrual syndrome and menopausal symptoms
Practical Tools to Accelerate Treatment Results, Improve Energy, and Gain Mental Clarity
Food: The Good, the Bad, and the Fake
Sleep: The 4 habits critical to refreshing sleep
Exercise: Elevate serotonin and regulate stress hormones
Stress: A Holistic Approach
Feed your brain
What You Need to Know about Somatic Therapies
The spectrum of somatic and bodywork therapies
Acupuncture
The NADA protocol for addictions
Cranial electrical stimulation for PTSD, insomnia, and optimal cognition
When to refer
Unique Issues Across the Lifespan
Children: Supporting sleep, focus, mood and attention
Alternatives to psychotropics for ADHD
Middle life: Peri-menopause, menopause, andropause
Preventing cognitive decline
Nutrition and integrative methods to support people with dementia and their caregivers
Apply Techniques Within Your Scope of Practice
Ethics, law and competency
Nutritional therapies
Culinary medicine
Behavioral medicine
Nutritional supplementation
Herbal medicine
Hydrotherapies for mood management
Bodywork therapies
Acupuncture and cranial electrical stimulation
Sound and music for insomnia and mood
Stage appropriate yoga for anxiety, pain and PTSD
Integrative detoxification for addiction
Build an Integrative Health Team
When and where to refer clients
How to find the right provider
Questions to ask before referring
Develop a niche practice as a certified specialist
Professional organizations and more training
Controversies and hot topics
Faculty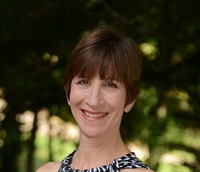 Your Healthy Structure
---
Vicki Steine, DSC, LCSW, has been a social worker for 18 years, working in both inpatient and outpatient settings, and works with children and adults with ADHD, anxiety, depression, and Tourettes' syndrome in her private practice in the Atlanta area. Dr. Steine received her Master's in social work from the University of Georgia and her Doctorate of Science in holistic nutrition from Hawthorn University. She is Board Certified in Holistic Nutrition through the National Association of Nutrition Professionals, a Nutrition Certified Practitioner through the Integrated and Functional Nutrition Academy, and is a member of the National Association of Social Workers.
Dr. Steine enjoys combining her skills as a social worker and nutrition educator to help her clients who struggle with staying organized, keeping focused at work or school, and overcoming the anxiety and depression that often prevents them from fully living their lives. She integrates nutrition, mind-body exercises, and traditional psychotherapy methods, like Cognitive Behavior Therapy, to help her clients get on with living their lives optimally.
She has spoken at many conferences and delivered workshops providing education to professionals and lay people alike on the benefits of nutrition and improving mental health. Dr. Steine has had personal success using a holistic approach, including nutrition and supplements, to recover from a near death boating accident and debilitating depression. 
Speaker Disclosures:
Financial: Vicki Steine maintains a private practice. She receives a speaking honorarium from PESI, Inc.
Non-financial: Vicki Steine is a member of the National Association of Social Workers; the National Association of Nutrition Practitioners; and the Southeastern Brainspotting Institute. She indicates she has a bias toward functional and integrative medicine in treating long term health care/issues.
---
Buy the Nutrition for Mental Health Certification Course – Vicki Steine course at the best price at GBesy. After your purchase, you will get access to the downloads page. You can download all the files associated in your order at here and we will also send a download notification email via your mail.
Unlock your full potential with Nutrition for Mental Health Certification Course – Vicki Steine courses. our courses are designed to help you excel.
Why wait? Take the first step towards greatness by purchasing Nutrition for Mental Health Certification Course – Vicki Steine courses today. We offer a seamless and secure purchasing experience, ensuring your peace of mind. With our trusted payment gateways, Stripe and PayPal, you can confidently complete your transaction knowing that your financial information is protected.
Stripe, known for its robust security measures, provides a safe and reliable payment process. With its encrypted technology, your sensitive data remains confidential throughout the transaction. Rest assured that your purchase is protected.
PayPal, a globally recognized payment platform, offers an additional layer of security. With its buyer protection program, you can feel confident in your purchase. PayPal ensures that your financial details are safeguarded, allowing you to focus on your learning journey.
Is it secure? to Use of?
How can this course be delivered?
What Shipping Methods Are Available?
How Do I Track Order?