Acquire the The Complex Neuro Patient -Strategies to Take Your Practice to the Next Level – Sean G. Smith Course at at GBesy. We actively partake in Groupbuys, striving to disseminate knowledge to a wider audience. Notably, our courses uphold the same quality standards as those found on the sale page. Should you prefer, you have the option to make a direct purchase from the sale page at the full price (the SALEPAGE link is seamlessly integrated into the post).

The Complex Neuro Patient -Strategies to Take Your Practice to the Next Level by Sean G. Smith,
Salepage link: At HERE. Archive:
Faculty:

Sean G. Smith

Duration:

Full Day

Format:

Audio and Video

Copyright:

Jun 07, 2017
Description
Assessments that Identify the RED Flags
Neuro Pharmacology Updates
Latest Management Strategies for: Neuro Trauma, Stroke, Seizures, Neuromuscular & Neurodegenerative Diseases
Does this sound familiar?
78-year-old Joe presents to the ER reporting he has a headache that just doesn't go away, today his vision seems a bit blurry and he is experiencing more dizziness. His wife tells you something is "not right" and he seems more confused. Joes tells you it's just the "flu"; everybody gets that this time of year and he doesn't know why his wife made him come in.
What Joe left out of the story:
The fall he took on the ice two days ago; he didn't want his wife to worry so he hadn't told her. Instead he's been taking aspirin hoping his headache will just go away.
Patients may present with or develop neurological symptoms at any time, making it essential that healthcare providers possess the ability—and confidence—to quickly assess these changes and intervene appropriately. Without the key piece of information that Joe left out of the story, are you sure you have all the skills necessary to spot the subtle changes? Are you prepared for the emergency that is happening right in front of you?
Join nationally-known speaker and neurological nursing expert, Sean Smith, RN, BSN, NREMT-P, C-NPT, CCRN, CMC, CFRN, FP-C, CPEN, for this in-depth look at the complex neuro patient. Every nurse needs to know these critical concepts in order to provide the best and most up-to-date care to patients and their families. Sean is well known for his ability to make complex concepts understandable and useful. Register today and be prepared to make the difference between a good and bad outcome when faced with your next neurological emergency.
Handouts
| | | | |
| --- | --- | --- | --- |
| | Manual ZNM077380 (22.37 MB) | 99 Pages | Available after Purchase |
Outline
Neuro Assessments: Identifying the RED Flags
Challenging Mental Status Exams

The Patient with Existing Dementia

The Down-n-Dirty Cranial Nerve Assessment
Glasgow Coma Scale
Identifying Red Flags
Effectively Communicating Changes
Neuro Trauma: The Latest Evidence-Based Strategies
Blunt & Penetrating Injuries
Symptom Management for:

Hypoxemia
Hypotension
Prophylactic Hypothermia
Nutrition Replacement
Normoglycemia
Hyperventilation

Surgical Emergencies & Post-op Care
Associated Mental Status & Cognitive Changes
Managing Increased Intracranial Pressure
Early & Late Symptoms
Non-invasive vs. Invasive Monitoring
ICP Waveform Analysis Made Easy
Neuro Pharmacology: New Thoughts on Old Therapies
Steroids
Osmotic Diuretics
Hypertonic Saline
Anti-Seizure Prophylaxis
DVT Prophylaxis
Thrombolytics & Anticoagulation
Reversal Agents
Infection Prophylaxis
Anesthetics, Analgesics & Sedatives
Timely Recognition and Treatment Recommendations for Stroke Syndromes
Acute Ischemic Stroke
Intracerebral Hemorrhagic Stroke
Hemispheric Findings
NIH Stroke Scale
Clinical Presentation & Management of Seizures
Differentiation of Seizure Type
Psychogenic Non-Epileptic Seizures (PNES's)
Sudden Unexplained Death in Epilepsy (SUDEP)
Neurodegenerative & Neuromuscular Disease
The Patient with Alzheimer's Disease
Assessing Altered Mental Status
The Patient with Pre-Existing Dementia
Tips to Spot Subtle Clues
Differentiating Diagnosis by Symptom Onset
The Patient with Multiple Sclerosis
Physical Assessment Challenges
The Patient with Muscle Weakness & Wasting
Key Criteria for Assessing Baseline
The Patient with Amyotrophic Lateral Sclerosis
Anticipating Complications
Early Recognition of Life-threatening Symptoms
What equipment is a MUST have at the bedside?
Difficult Airway Management
The Patient with Parkinson's Disease
Symptom Management Challenges
Interventions for the Agitated Patient
Strategies for Effective Patient Compliance
Team Approach: Role of the Interdisciplinary Team & Family
Faculty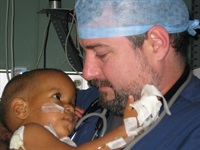 Critical-Care Professionals International
---
Sean G. Smith, C-EFM, C-NPT, FP-C, TP-C, RNC-NIC, CEN, CFRN, CPEN, CCRN-CMC (Adult), CCRN-K (Neonatal), CCRN-K (Pediatric), is a flight nurse-paramedic who has practiced and taught Trauma Care, Tactical Medicine, Emergency/Critical Care and Prehospital Emergency Medical Services, both in the military and the civilian world. He holds degrees in nursing and molecular biology, is a graduate of Duke University's Legal Nurse Consulting program and is currently pursuing a master's degree through the University of Florida College of Pharmacy. He holds multiple advanced specialty certifications as well as extensive instructor qualifications in critical care and emergency medicine.
Career highlights include numerous author/co-author credits, including: a best-selling Laboratory Medicine textbook, a chapter on Shock in Trauma Nursing Core Curriculum, and a section in the newly released Resuscitation Crisis Manual. Sean consults on clinical, legal and certification prep for numerous high-profile hospital systems (Yale, Mayo…). He routinely lectures at national/international conferences, has completed 50 + medical missions (Dominican Republic, Honduras, Morocco, Liberia, and Haiti), and medical support to the NASA Space Shuttle Program.
Speaker Disclosures:
Financial: Sean G. Smith receives a speaking honorarium from PESI, Inc.
Non-financial: Sean G. Smith has no relevant non-financial relationships to disclose.
---
Buy the The Complex Neuro Patient -Strategies to Take Your Practice to the Next Level – Sean G. Smith course at the best price at GBesy. After your purchase, you will get access to the downloads page. You can download all the files associated in your order at here and we will also send a download notification email via your mail.
Unlock your full potential with The Complex Neuro Patient -Strategies to Take Your Practice to the Next Level – Sean G. Smith courses. our courses are designed to help you excel.
Why wait? Take the first step towards greatness by purchasing The Complex Neuro Patient -Strategies to Take Your Practice to the Next Level – Sean G. Smith courses today. We offer a seamless and secure purchasing experience, ensuring your peace of mind. With our trusted payment gateways, Stripe and PayPal, you can confidently complete your transaction knowing that your financial information is protected.
Stripe, known for its robust security measures, provides a safe and reliable payment process. With its encrypted technology, your sensitive data remains confidential throughout the transaction. Rest assured that your purchase is protected.
PayPal, a globally recognized payment platform, offers an additional layer of security. With its buyer protection program, you can feel confident in your purchase. PayPal ensures that your financial details are safeguarded, allowing you to focus on your learning journey.
Is it secure? to Use of?
How can this course be delivered?
What Shipping Methods Are Available?
How Do I Track Order?