Acquire the The Upward Spiral- Evidence-Based Neuroscience Techniques for Rewiring the Pathways of Anxiety, Depression and Related Disorders – Alex Korb Course at at GBesy. We actively partake in Groupbuys, striving to disseminate knowledge to a wider audience. Notably, our courses uphold the same quality standards as those found on the sale page. Should you prefer, you have the option to make a direct purchase from the sale page at the full price (the SALEPAGE link is seamlessly integrated into the post).

The Upward Spiral- Evidence-Based Neuroscience Techniques for Rewiring the Pathways of Anxiety, Depression and Related Disorders by Alex Korb,
Salepage link: At HERE. Archive:
Faculty:

Alex Korb

Duration:

6 Hours 52 Minutes

Format:

Audio and Video

Copyright:

Jan 26, 2021
Description
Early in my career, I recognized a disconnect between neuroscience research and popular treatment strategies. While depression and anxiety are clearly rooted in altered brain function, most clinicians were not taught about specific neural circuits and neurotransmitters that contribute to these disorders. As a result, treating mood and anxiety disorders were often incomplete – many solutions uncovered by research were overlooked and strategies relied heavily on medication without any changes in a client's action, activity and environment. There had to be a better way to treat these clients and improve outcomes!
Today, I know that using proven cognitive-behavioral interventions like Acceptance and Commitment Therapy (ACT), Mindfulness-Based Cognitive Therapy (MBCT), and Behavioral Activation Therapy (BAT) in conjunction with exercise, social support and positive habits yields powerful therapeutic effects. Expanding your tool kit of brain-based interventions allows you to accommodate your clients' different challenges. And, when your clients understand that what feels "wrong" is actually the activity and chemistry of particular brain circuits, it improves treatment buy in and compliance.
Watch this must attend conference and I will show you how to put the power of neuroscience to work for you and your clients:
Utilize brain-based cognitive therapies like ACT, MBCT, and BAT for mood and anxiety disorders
Apply new techniques informed by the latest neuroscience research to improve treatment outcomes
Discover how simple interventions modulate the activity and chemistry of key brain regions
Learn how to teach clients about their brain
Are you ready to expand your treatment tool box with the latest in neuroscience techniques?
Let me help you take your practice to the next level. Your satisfaction is guaranteed. Purchase today!
See you there,
Dr. Alex Korb
Handouts
| | | | |
| --- | --- | --- | --- |
| | Manual – The Upward Spiral (8.4 MB) | 80 Pages | Available after Purchase |
Outline
Understand the Key Brain Regions and Chemicals Involved
Prefrontal cortex, limbic system, striatum
Neurotransmitters: serotonin, dopamine, norepinephrine, oxytocin, etc.
How it all fits together
Key Principles From Proven Cognitive-Behavioral Interventions
Behavioral Activation Therapy (BAT)
Acceptance and Commitment Therapy (ACT)
Mindfulness-Based Cognitive Therapy (MBCT)
Utilize the Benefits of Exercise
Benefits on serotonin and dopamine systems, as well as stress reductions
Intensity and frequency of exercise required
How simply being outdoors can help
Minding the Amygdala: Mindful Awareness of Emotions
Labeling feelings to reduce amygdala activity
Making the most of ACT to reduce stress
Set Goals, Make Decisions, and Top-Down Regulation of Brain Activity
The impact of goal-setting on lower-level processing
Choice, decisions and happiness
The importance of intention and voluntary choices
Simple strategies for applying BAT
Low-Tech Biofeedback
The mind-body connection, meditation and MBCT
Understanding heart-rate variability
The power of breathing
How postural changes, muscle tension and facial expressions can affect mood
How the Brain Encodes Habits and How to Change Them
The distinction between impulses and routines
Cognitive and emotional habits
The relationship between habits and stress
Cognitive-behavioral approaches to changing habits
Social Solutions
The impact of social support on the brain's stress response
The power of physical touch
Why social interactions are rewarding
How social support can improve the efficacy of medication
The Power of Gratitude
The impact of gratitude on key neural circuits
How to operationalize gratitude in order to implement it in daily life
Make the Most of Sleep
How sleep affects mood
Key changes in sleep hygiene that improve sleep quality
The Limitations of Neuroscientific Research
fMRI imaging
Things to consider regarding animal studies
Simple explanations for complicated processes
Faculty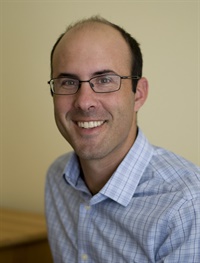 ---
Alex Korb, Ph.D., is a neuroscientist, writer and coach. He has studied the brain for over 15 years and is the author of The Upward Spiral: Using Neuroscience to Reverse the Course of Depression, One Small Change at a Time. He received a BS in Neuroscience at Brown University, before earning a PhD in Neuroscience at UCLA. His dissertation focused on measuring electrical activity in the brain to better understand and treat depression. He is an adjunct assistant professor in the department of psychiatry at UCLA where his research focuses on neuroimaging and the development of a novel brain stimulation device. He has authored over a dozen peer-reviewed journal articles on the neuroscience of psychiatric disorders.
His popular blog on PsychologyToday.com has over a million views. He speaks around the country on neuroscience and has appeared on radio shows and podcasts worldwide. He has a wealth of experience in yoga and mindfulness, physical fitness, and even stand-up comedy.
Speaker Disclosures:
Financial: Alexander Korb is an adjunct assistant professor at UCLA. He receives a speaking honorarium from PESI, Inc.
Non-financial: Alexander Korb has no relevant non-financial relationship to disclose.
---
Buy the The Upward Spiral- Evidence-Based Neuroscience Techniques for Rewiring the Pathways of Anxiety, Depression and Related Disorders – Alex Korb course at the best price at GBesy. After your purchase, you will get access to the downloads page. You can download all the files associated in your order at here and we will also send a download notification email via your mail.
Unlock your full potential with The Upward Spiral- Evidence-Based Neuroscience Techniques for Rewiring the Pathways of Anxiety, Depression and Related Disorders – Alex Korb courses. our courses are designed to help you excel.
Why wait? Take the first step towards greatness by purchasing The Upward Spiral- Evidence-Based Neuroscience Techniques for Rewiring the Pathways of Anxiety, Depression and Related Disorders – Alex Korb courses today. We offer a seamless and secure purchasing experience, ensuring your peace of mind. With our trusted payment gateways, Stripe and PayPal, you can confidently complete your transaction knowing that your financial information is protected.
Stripe, known for its robust security measures, provides a safe and reliable payment process. With its encrypted technology, your sensitive data remains confidential throughout the transaction. Rest assured that your purchase is protected.
PayPal, a globally recognized payment platform, offers an additional layer of security. With its buyer protection program, you can feel confident in your purchase. PayPal ensures that your financial details are safeguarded, allowing you to focus on your learning journey.
Is it secure? to Use of?
How can this course be delivered?
What Shipping Methods Are Available?
How Do I Track Order?